Therapeutic apheresis procedures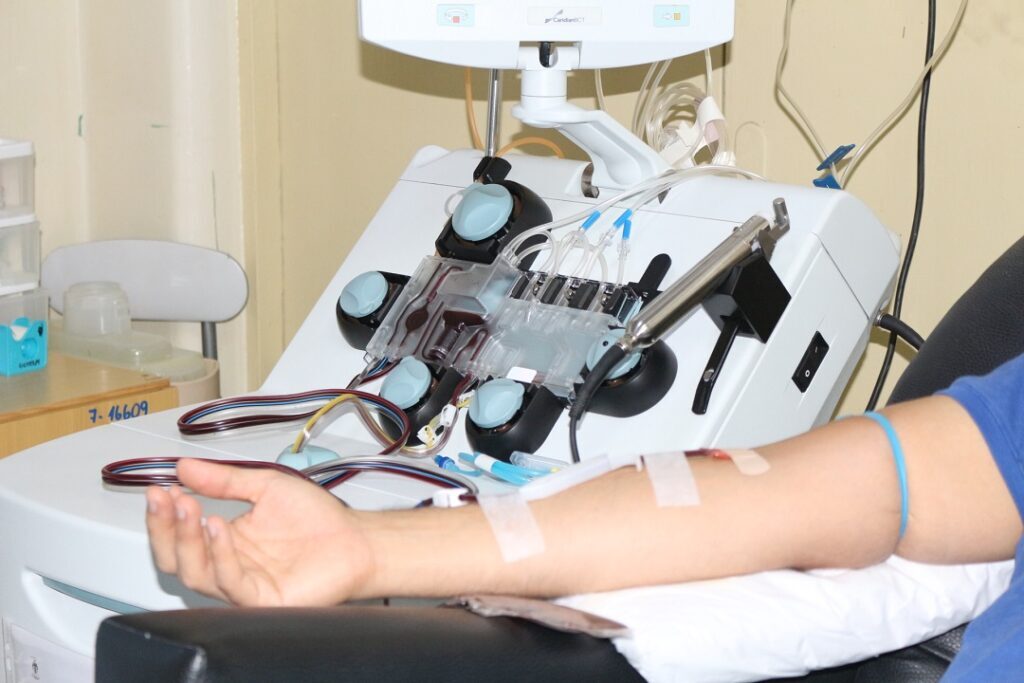 Apheresis,Blood Disorder
Therapeutic apheresis is an emerging treatment modality, which improve the outcome of susceptible clinical disorders. These techniques includes, therapeutic plasma exchange (TPE), therapeutic leucoreduction, Therapeutic Red Cell Exchanges (RCE) treatment. Some of these applications are the primary therapy for certain disease processes, and many others are considered to be secondary or adjunctive therapy, but both categories of apheresis treatments are considered to be effective and beneficial.
Therapeutic plasma exchange (TPE): It's an extracorporeal blood purification technique in which the plasma is separated from the blood, discarded in total, and replaced with a substitution fluid such as an albumin or with plasma collected from healthy donors. This is generally performed to remove high-molecular-weight substances such as pathogenic autoantibodies, immune complexes, cryoglobulins and toxins that have accumulated in the plasma.
Therapeutic Red Cell Exchanges (RCE): Thalassemia and Sickle Cell Anemia are two most prevalent genetic blood disorder worldwide with 5% of world's population and approx. 3% of Indian population is affected. Chhattisgarh state is one of the pre dominant zone for this genetic disorder with prevalence of approx. 10% (I.e. approx. 28 lacs of state population).Red Cell Exchange is considered as a critical and important management in Sickle cell disease (SCD) to prevent associated complications like stroke, acute chest syndrome, and sickle hepatopathy. RCE may be indicated prior to planned surgical procedures, may be necessary during pregnancy in women who have a history of severe SCD-related complications, and is indicated prior to stem cell mobilization.
Granulocytapheresis: Granulocyte transfusion has evolved as an accepted therapeutic approach for immunocompromised, severely neutropenic, myelosuppressed leukemic patients or hematopoietic stem cell transplant (HSCT) with life-threatening infections despite appropriate antibiotic therapy. The combination of Growth-stimulating colony factor (G-CSF) and dexamethasone to stimulate granulopoiesis in normal donors has facilitated the collection of larger cell doses of granulocyte concentrations (GCs) via automated apheresis.
Many haematologic, neurologic, renal, rheumatic, and metabolic disorders have been successfully treated with the help of therapeutic apheresis. Balco Medical Centre's team of well-trained transfusion medicine specialist, nurses and technicians provide exceptional care to every patient using state-of-the-art machinery and equipment to safely filter a patient's blood and monitor transfusions.